News
The coming events held in Japanese are introduced in the Japanese page.
Kokugakuin Digital Museum launched
(May 15, 2009)
Kokugakuin Digital Museum is now available online. URL: http://k-amc.kokugakuin.ac.jp/DM/
# Encyclopedia of Shinto (EOS) and Basic Terms of Shinto (BTS) are integrated in this new system.
IJCC and OARD
(April 1, 2007)
Institute for Japanese Culture and Classics is now integrated in the Organization for the Advancement of Research and Development, Kokugakuin University.
Encyclopedia of Shinto Published Online
(May 26, 2005)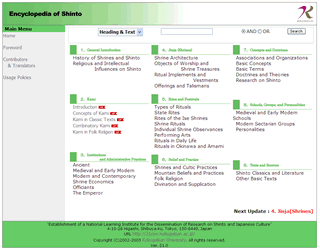 URL: http://eos.kokugakuin.ac.jp/

We are pleased to announce availability of the first volume (Kami) of the online English translation of the Shinto jiten (Encyclopedia of Shinto). The original Japanese edition of Shinto jiten was published in 1994 from Kobundo under the editorship of the Institute for Japanese Culture and Classics, Kokugakuin University. The first volume of the English translation, representing the second chapter of the Shinto jiten and dedicated to Shinto deities or kami, was published from the same Institute in 1994 (Kami), followed in 2004 by the second volume, representing the fourth chapter and dedicated to shrines (Jinja). The English text has been revised and additional reference materials appended for the online version, we hope making this version an even more useful tool for those interested in Shinto and Japanese culture.