---

Table of Contents
A


C
---
B

Shinbatsu

Saikai
"Shrines on the Special List." The Jinja Honchô has made a special list of certain former national or state shrines and other large shrines in order to facilitate administration. At present, 244 shrines have been placed on this list.
Divination. From ancient times, many means have been used to attempt to determine the good or ill fortune of a thing or undertaking and to ascertain the divine will. Examples include futomani, heating the shoulder plate of a deer and interpreting the resulting cracks, and kiboku, heating the shell of a tortoise.
A festival celebrated around July 15 in order to console the spirits of the dead. On the 13th, a fire called mukaebi (welcoming fire) is burned at the entrance of each house; by this the spirits of the dead are welcomed into the house and offerings are made to them on the altar. On the 15th, another fire called okuribi (sending-off fire) is burned to send off the spirits on their return. In some places, instead of the okuribi, lanterns are floated down a river. The festival is said to have originated in Buddhism; but it is clear that the Japanese practice is based on indigenous beliefs antecedent to Buddhism and that Buddhist practices were simply added later.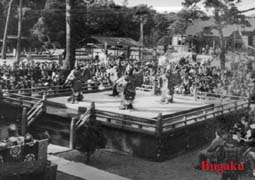 Ceremonial dancing accompanied by music. See gagaku.
---
A


C

Table of Contents
---
Copyright © 1997 Institute for Japanese Culture and Classics, Kokugakuin University. All rights reserved. [copyright notice]